Only a few months later, in February 2009, Renick's chance to meet director Jason Reitman at a college lecture provided him with the opportunity of a lifetime. Renick handed Reitman a cassette tape featuring his original composition titled "Up in the Air" and told Reitman the story of his recent layoff. After Reitman looked at the primitive format and wondered aloud where he would be able to listen to the cassette, Renick admits he left the encounter without a lot of expectations. But thanks to Reitman's unique diligence in seeking out a cassette player, the song – which echoed the movie's theme and aesthetic – would not only become the title track of Reitman's new movie, the version appearing in the film would be the same one Renick recorded in demo form, sitting on the couch in front of his old cassette recorder, specifically to give to Reitman. In Dec. 2009, Up In The Air was finally released in the U.S., with openings in other countries throughout 2010. What followed for Renick was a whirlwind of attention: appearances on the CBS Evening News with Katie Couric and numerous TV programs in St. Louis; live hometown performances at the 2009 St. Louis Film Festival and the Songwriters Showcase in nearby Greenville, IL; a press junket to Japan with UITA actress Anna Kendrick co-sponsored by Paramount Pictures and American Airlines; and articles in the Washington Post, the Huffington Post, the Los Angeles Times, St. Louis Magazine, the Riverfront Times and many others. Blogs around the world upon Up In The Air's release buzzed with Oscar talk sparking debates over why the Oscar rules (that made Renick's song ineligible for nomination) should be changed...
Renick launched a recording career following his song's appearance on Rhino Records' Up in the Air soundtrack with a pair of self-released CDs: Close To Something Beautiful in 2010 and Come On Down in 2011. He also released a long-gestating ambient/spoken word collaboration with Canadian electronica artist John Sobocan, whose Eno-esque soundscapes proved the perfect complement to Renick's soft-spoken meditations on life, love and loss. That project, The Road To Olandra, was a crucial and influential stepping stone on Renick's creative journey. In late 2012, Renick released his fourth outing, Under The Wishing Tree, an ambitious song cycle that features "Ballad of the American Farmer," a song he'd been commissioned to write and record for the upcoming James Roberson documentary about the history of American agribusiness, In the Interest of National Security.

Renick performs gigs regularly around St. Louis and neighboring cities, in both a coffee house singer-songwriter format either solo/duo, and as a 4-piece band. He has played at venues including the prestigious Sheldon Concert Hall, the Old Rock House, Blueberry Hill, Off Broadway, the Way Out Club, Vin de Set restaurant and others, and appeared as a featured performer at the Nashville Songwriter's Festival in June 2011. With Renick's special ability to channel Neil Young, he also performs periodically in a Neil Young tribute act called Shakey Deal. And he has recorded a children's song called "Read A Book" about the joys of reading; this song was submitted to the American Library Association for consideration in their literacy campaigns. Having penned close to two hundred beautifully crafted songs, Renick has forged a singular aesthetic that captures the timeless themes of love, friendship, loss and leaving childhood behind.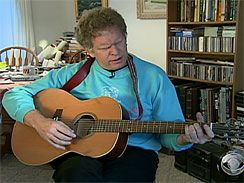 MTV called Renick's journey "one of the best true-life success stories we've heard lately." The international film magazine Empire, published in the U.K., chose Renick's "Up in the Air" song as #5 on their list of "Best Movie Songs of 2010." Renick keeps in active touch with his fans through Facebook, Reverb Nation, YouTube and other online hubs. He hopes 2013 will be a pivotal year

, and is busy making lists of goals and songs needing to be finished. Both lists keep getting longer and longer...